Behringer X32 Mixer Digital 32-Channel
40-input, 25-total-bus Digital Mixer with 32 Gain-Programmable Mic Preamps, 25 Motorized Faders, Virtual FX Rack, and 7″ Color TFT
Cek Harga
Share atau Bagikan :
Description
Berkonsentrasi pada musik Anda, bukan antarmuka mixer yang membingungkan. Mixer digital Behringer X32 mengemas semua yang Anda butuhkan untuk dengan mudah memixing dan merekam pertunjukan langsung menjadi sasis yang ringkas dan layak digunakan. Dengan preamp mikrofon berdesain Midas yang terdengar luar biasa, X32 juga cocok untuk studio. Kuat dan intuitif, saluran pemrosesan X32 sports 40 dan 16 bus campuran, memberi Anda fleksibilitas yang selalu Anda rindukan. Muncul dilengkapi untuk recording 32-channel, dengan kompatibilitas instan dengan DAW utama. Pemrosesan sinyal yang serius dapat dengan cepat dikonfigurasikan untuk sesi dalam berbagai ukuran. Jika Anda bosan menegosiasikan banyak encoder dan menu yang tak ada habisnya, maka inilah saatnya Anda mencoba pendekatan baru untuk mixing digital: Behringer X32.
Behringer X32 Features
40-input, 25-total-bus digital mixer
16 mix buses, main LCR, 6 matrix buses
Gain-programmable Midas-designed mic preamps deliver enhanced dynamic range and superior common mode rejection ratio (CMRR)
Highly configurable, with up to 40 processing channels and 25 motorized faders
USB flash connection allowing uncompressed recordings, storing show presets, and enabling system updates
6 independent matrix mix buses with inserts, 6-band parametric EQ, and dynamics processing
Powerful scene management for easy handling of complex productions
X-USB recording interface card included
Support for optional Behringer P16-M Personal Monitoring System
48-channel digital snake ready (sold separately) via AES50 ports
I / O yang mengesankan dapat menangani pertunjukan dalam berbagai ukuran
Mixer digital Behringer X32 menawarkan sejumlah input dan output yang mengesankan untuk ukurannya yang ringkas. Dilengkapi dengan 32 preamp mikrofon gain-programmable yang terdengar bagus, enam input aux TRS 1/4 ", 16 out XLR seimbang, ditambah output Ruang Kontrol seimbang pada konektor TRS XLR dan 1/4", X32 memungkinkan Anda melakukan pertunjukan besar tanpa takut kehabisan I / O. Kabel tunggal Cat 5 dari depan rumah ke atas panggung dapat menangani hingga 48 saluran audio dan memberikan semua output bus, bersama dengan 16 umpan monitor terpisah untuk Sistem Pemantauan Pribadi P16-M Behringer opsional.
Great-sounding Midas-designed mic preamps
Untuk desain preamps X32 yang dapat diprogram, Behringer memanfaatkan keahlian Midas dan Klark Teknik untuk mengembangkan preamp mik berkualitas studio yang memberikan jangkauan dinamis yang ditingkatkan, penolakan mode umum yang superior, dan distorsi harmonik rendah (THD). Preamp ini terdengar luar biasa!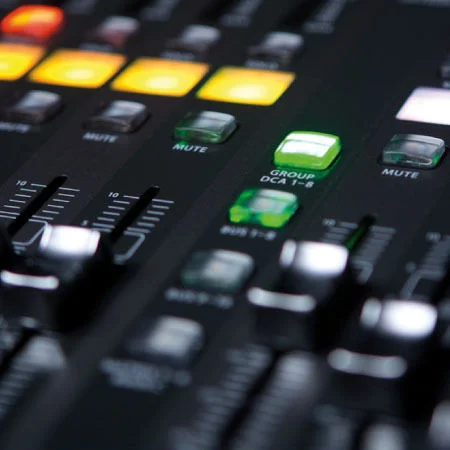 Kompatibilitas instan dengan DAW utama
Mixer digital Behringer X32 hadir dengan kartu antarmuka recording X-USB, yang memungkinkan Anda merekam trek langsung ke DAW Anda. Kemudahan ini berarti bahwa langsung, Anda memiliki kompatibilitas dengan Pro Tools, Logic, Cubase, Studio One, DP, dan hampir semua DAW lain yang kompatibel dengan ASIO atau Core Audio.
Onboard FX menambahkan sentuhan profesional ke dalam campuran Anda
Mixer digital Behringer X32 menggunakan rak FX virtual onboard yang memberi Anda delapan prosesor multi-efek stereo-sebenarnya (16 mono), termasuk penundaan, paduan suara, dan dinamika. Itu juga dapat menjalankan empat reverb stereo berkualitas studio bersama dengan delapan saluran EQ 31-band grafis, menghilangkan perangkat keras tempel mahal.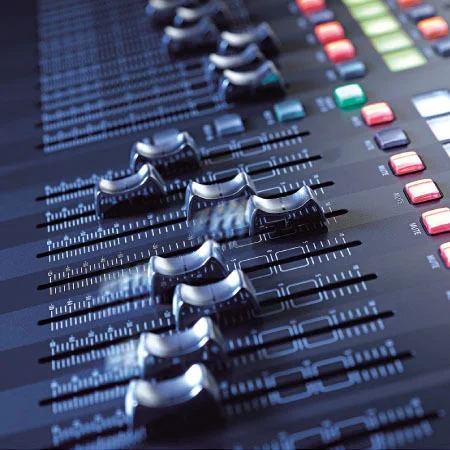 Kontrol yang komprehensif untuk alur kerja yang produktif
Dengan mixer digital X32 Behringer, Anda dapat menetapkan sinyal ke delapan grup DCA (pengontrol yang dikontrol secara digital), dengan kontrol level grup secara simultan melalui fader bermotor 100mm khusus. X32 memiliki bagian komentar balik (dengan mikrofon bawaan) yang memungkinkan Anda berkomunikasi dengan para artis. Manajemen adegan X32 yang kuat memungkinkan Anda mengambil snapshot dari campuran yang dapat Anda ingat nanti. Anda bahkan dapat menyimpannya ke thumb drive USB untuk dipanggil nanti atau digunakan pada X32 lain! Terlebih lagi, ada bagian kontrol kustom khusus dengan tombol dan tombol yang dapat ditentukan pengguna, sehingga Anda dapat membuat set kontrol yang disesuaikan, menjadikannya sederhana dan intuitif untuk mengakses fungsi yang sering digunakan saat Anda bekerja.
Pembaruan firmware dan perangkat lunak v3 menghadirkan fitur-fitur baru yang menarik
Dengan v3, mixer digital Behringer X32 lebih kuat dari sebelumnya. Auto Mix memungkinkan pembagian keuntungan gaya Dugan, memberikan peningkatan gain ke speaker utama Anda, sambil meredam mic terbuka. Ini menghasilkan rasio signal-to-noise yang lebih baik tanpa artefak gating. Integrasi X-Touch lengkap memungkinkan kontrol langsung volume, pan, EQ, FX, dan lainnya melalui Ethernet. Siapkan crossover penuh tanpa menggunakan campuran matriks. Membalik polaritas pada output Anda untuk perataan speaker yang mudah. Aplikasi X32-Edit telah sepenuhnya didesain ulang, dengan antarmuka baru, kemampuan layar penuh, jendela mengambang, lapisan fader yang dapat dikonfigurasi, dan banyak lagi.
Behringer X32 Features
Type:

Digital

Channels:

40

Inputs – Mic Preamps:

32 x XLR

Phantom Power:

32 x Channels

Inputs – Other:

2 x RCA (Aux), 6 x 1/4″ TRS (Aux)

Outputs – Main:

16 x XLR

Outputs – Direct:

Assignable

Outputs – Other:

1 x AES/EBU, 2 x RCA (Aux), 6 x 1/4″ TRS (Aux)

Inputs – Digital:

2 x AES50, 32 x USB (96 Total Channels)

Outputs – Digital:

1 x AES/EBU (XLR), 32 x USB, 2 x AES50 (32 via Optional Digital Snake)

Aux Sends:

16 x Aux Sends

Send/Return I/O:

6 x 1/4″ TRS

Busses/Groups:

16 x Bus

Channel Inserts:

Virtual (Physical Assignable to AUX In/Outs

Talkback:

Yes

Data I/O:

Ethernet (X-Touch remote features), USB, MIDI I/O

USB:

1 x Type B, 2 x Type A

Computer Connectivity:

USB (32 x 32)

I/O Expansion Slots:

1 x Slot (Includes 32×32 USB Interface)

Headphones:

1 x 1/8″

Faders:

25 x 100mm (Motorized)

EQ Bands:

4-band Parametric (6-band on Mix Bus)

Effects:

Yes

Transport Controls:

via Assign Section

DAW Control:

Yes

Height:

7.9″

Depth:

20.8″

Width:

35.4″

Weight:

45.4 lbs.

Manufacturer Part Number:

X32
Spesifikasi
Number of Analog Input Channels
32
Number of Mic Preamps
32
Mix Routing
8 x Aux Send
8 x FX Return
Presets
100 x Scene
Display
Main Display:
7″ / 177.8 mm  Touchscreen
Channel Display:
LCD (Backlit)
Display Resolution/Color
Main Display:
800 x 480 / 6-Bit Color
Channel Display:
128 x 64 / RGB Color
Meters
24-Segment LED
Meter Range
-57 dB to Peak/Clip
Internal Effects
8 x Stereo
16 x Mono
Sample Rates
44.1 / 48 kHz
Bit Depth
AD/DA Conversion:
24-Bit
DSP
40-Bit Floating Point DSP
Converter Dynamic Range
A/D:
109 dB
D/A:
108 dB
Latency
0.8 ms (Console Input to Output)
1.1 ms (Stagebox Input to Stagebox Output)
Frequency Response
10 Hz to 22 kHz
Max Input Level
1/4″ TRS Input:
+16 dBu
Mic Input:
+23 dBu
Output Level
1/4″ TRS Output:
+4 dBu (Nominal)
Headphone Output:
+25 dBm (Stereo)
XLR Output:
+4 dBu (Nominal)
+21 dBu (Max)
Analog Dynamic Range
106 dB
I/O Impedance
1/4″ Input:
40 kilohms (Balanced)
20 kilohms (Unbalanced)
1/4″ Output:
300 ohms (Balanced)
150 ohms (Unbalanced)
Headphone Output:
40 ohms
Mic Input:
5 kilohms (Unbalanced)
10 kilohms (Balanced)
XLR Output:
75 ohms
Crosstalk
Adjacent Inputs:
100 dB at 1 kHz
CMRR
>70 dB at +20 dB Gain
>80 dB at +40 dB Gain
EIN
-128 dBu (Input Shorted)
Noise Floor
-87 dBu (A-Weighted)
THD+N
<0.006% at +20 dB Gain (A-Weighted)
Analog Inputs
1 x 2RCA Input
1 x XLR Talkback Input
32 x XLR Mic Input
6 x 1/4″ TRS Balanced Aux Input
Analog Outputs
1 x 2RCA Output
16 x XLR Line Output
2 x 1/4″ TRS Headphone Output
2 x XLR Monitor Output
2 x 1/4″ TRS Balanced Monitor Output
6 x 1/4″ TRS Balanced Aux Output
Phantom Power
+48 V (Selectable on Individual Inputs)
Digital I/O
1 x RJ45 (Control)
1 x RJ45 Ultranet (Control)
1 x XLR AES3 Output
2 x etherCON AES50/SuperMAC
MIDI I/O
1 x MIDI 5-Pin In
1 x MIDI 5-Pin Out
USB
1 x USB Type-A (USB 2.0, Audio Playback, External Memory)
1 x USB Type-B (Control)
Expansion Ports
1 x 32 x 32 I/O Card
| | |
| --- | --- |
| AC Input Power | 100 to 240 VAC, 50 / 60 Hz |
| Power Consumption | 120 W |
| | |
| --- | --- |
| Dimensions | 35.4 x 20.8 x 7.9″ / 900.0 x 528.0 x 200.0 mm |
| Weight | 45.4 lb / 20.6 kg |
| | |
| --- | --- |
| Package Weight | 63 lb |
| Box Dimensions (LxWxH) | 40 x 26 x 13″ |