Allen & Heath dLive C2500 20 Faders 6 Layers Digital Mixer
Control Surface with 12″ Touchscreen, 20 Faders, 19 SoftKeys, 6 Rotary Controls, 6 XLR Inputs/Outputs, AES Digital I/O, and Connection Hub
Cek Harga
Share atau Bagikan :
Description
The Allen & Heath dLive C2500 Surface is the epitome of simple. Control your mix with intuitive pinch, swipe, and drag and drop gestures. A 12″ touchscreen, 20 faders, and six assignable one-knob/one-function rotary controls provide you with at-a-glance visual feedback and tactile control of your mix. Assignable inputs, virtual scribble strips, and customizable SoftKeys add to the C2500's effortless operation. And everything is housed in a compact portable chassis. Harness the full potential of digital mixing with the Allen & Heath dLive C2500.
Allen & Heath dLive C2500 Surface Features:
Control surface for dLive mixing systems
12″ touchscreen delivers intuitive control and at-a-glance visual feedback
20 faders and 3 pages of 6 rotary controllers provide superb tactile control
Assignable inputs, virtual scribble strips, and 19 customizable SoftKeys for ease-of-use
Dedicated multi-mode EQ view for easy sound shaping
Configurable widget areas provide you with quick access to scenes, meters, effects, and more
Harmony User Interface
Where many digital consoles are still trying to recreate the experience of using an analogue mixer, dLive is a true digital native, drawing on our familiarity with the ubiquitous smartphones and tablets that we all use without thinking. C2500's 12" capacitive touchscreen feels instantly familiar, responding to every pinch, swipe, drag and drop exactly how you'd expect them to. Bespoke 'widget' areas can also be set up on the screen to keep track of scenes, meters, FX and other custom controls. The screen is complemented by a set of rotary controls, allowing the creativity and immediacy of tactile control over key processing functions, working in harmony with the visual feedback displayed on the screen. The high-grip rotary knobs offer precision control, and feature RGB illumination, with colours mapped to functions for instant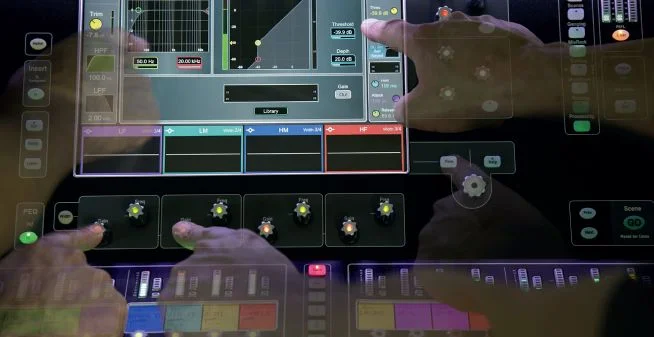 Incredible at-a-glance visual feedback and transparent workflow
Using the Allen & Heath dLive C2500 Surface is simple. A quick glance tells you everything you need to know. Despite the incredible arsenal of functions available, you won't find yourself lost in complex menus. You don't need to adapt to a different way of working to mix on the C2500. Its layout is customizable, so you can create a mixing interface that matches the way you like to work. Every input or mix can be assigned to every bank and/or layer. Virtual scribble strips ensure that all inputs and mixes are clearly named and color-coded. And the C2500's screen remains visible in sunny outdoor settings.
Spesifikasi
Type:

dLive Control Surface

Channels:

20 channel faders with 6 layers

Inputs – Mic Preamps:

6 x XLR (mic/line)

Phantom Power:

6 channels

Outputs – Main:

6 x XLR

Inputs – Digital:

1 x XLR (AES3)

Outputs – Digital:

1 x XLR (AES3)

Busses/Groups:

64 bus internal architecture

Data I/O:

RJ45 (DX5 link), RJ45 (GigaACE link), 2 x Network ports

USB:

2 x Type A

Computer Connectivity:

USB (2 x 2)

I/O Expansion Slots:

1 x Expansion slot (iLive/GLD option cards)

Headphones:

1 x 1/4″, 1 x 1/8″

Word Clock:

1 x BNC In/Out

Faders:

20 x motorized faders

EQ Bands:

4-band parametric, graphic EQ

Effects:

16 RackExtra FX

Features:

Touch screen features pinch, swipe, drag'n drop gestures, 19 assignable soft keys, video out

Screen:

12″ touchscreen

Height:

12.8″

Depth:

26.2″

Width:

30.5″

Weight:

54 lbs.

Manufacturer Part Number:

AH-DLIVE-DLC25